About Us:
Raising Golden Teddy Bears is a Family Affair

This is my granddaughter with our first two Golden Pups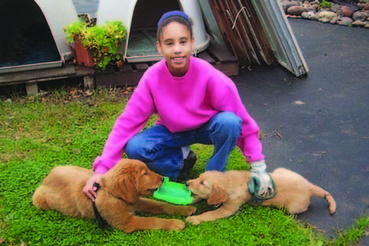 We have owned and loved Golden Retrievers for the last 18 years. We got our first American Golden Retrievers for my granddaughter and her best friend when they were little girls. They were so amazing with all the children and we just fell in love with their wonderful temperament.

Our goal is to produce Goldens that are the ultimate family pet, with our primary focus on health and temperament that matches the stunning beauty of these wonderful dogs.

---
Our commitment to breeding for health is very personal to us, partly because of our own first experience. Sadly, the breeder of our first Golden Retriever babies did not health test their sires and dams, or guarantee their pups. Our little girl developed severe hip dysplasia before she was 6 months old. She had a wonderful disposition, and we were able to keep her comfortable with glucosamine, but she never really played like a puppy because of her hips. That experience drives our commitment to be a breeder who carefully selects the best genetic lines to continue to improve this awesome breed.

Later, we learned that the European bloodlines, commonly referred to as "English Golden Retrievers," often have a stronger health background than many American Goldens, and tend to have a more mellow temperament. We knew that this was the direction our breeding program would take.

We certify our sires and dams for hips, elbows, cardiac and eyes, and offer a two year genetic health guarantee on our pups. We want the puppy that your family falls in love with to have a long, healthy and happy life.

Our dogs are family raised and socialized to enhance the mellow, people pleasing temperament that Goldens are known for. My great grandchildren are our newest puppy socializers. 'Dog' was one of Zuree's first words! We're confident that they will carry on the tradition of "Kid Tested, Teddy Bear Goldens" in the years to come.

Some of our Golden Moments Through the Years